Carl Girouard, a resident of Ste-Thérèse, a suburb of Montreal, faces two counts of first degree murder and five counts of attempted murder.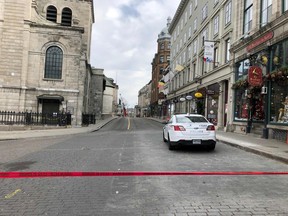 Content of the article
The author of a sword attack in Quebec City, Carl Girouard, does not deny the acts committed on October 31, 2020, Superior Court Judge Richard Grenier said Monday before a jury of eight women and four men.
Content of the article
The trial at the Quebec courthouse will therefore focus on the mental state of the accused on the evening of the facts, said the judge. It will be up to the jury to determine whether Girouard should be found not criminally responsible due to mental problems.
"The most important admission in this case is that Mr. Girouard is the perpetrator of these homicides," the judge said in his preliminary instructions to the jury. "You will have to assess the evidence that will be produced and determine his responsibility."
Girouard, 26, allegedly used a Japanese sword to randomly attack passers-by in the city's old quarter. Suzanne Clermont, 61, and François Duchesne, 56, were killed.
The accused, a resident of the Montreal suburb of Ste-Thérèse, faces two counts of first degree murder and five counts of attempted murder.
Defense attorney Pierre Gagnon told the court that a psychiatrist and Girouard's mother will testify for the defense, along with at least one correctional officer.
After the attacks, police established 25 crime scene perimeters around the city's Chateau Frontenac and Old Port, where the attacker was intercepted by police after a two-hour manhunt and half.
On the night of the attack, Quebec City was in containment linked to COVID-19 and its Old Port was practically deserted. Normally the area would have been filled with crowds.
The trial is expected to last four to five weeks.